Dynamic thumbnails for many image formats natively in Windows Explorer
Control panel for total customization
Recommended for Professional and Amateur photographers, Artists, Content Creators, Printers, Game Designers etc.

MysticThumbs generates thumbnails of many image formats not natively supported by Windows.
It plugs into Windows Explorer so you don't have to run a separate application to preview your images, see them all in the native shell and Open/Save dialog boxes in all 32 and 64 bit applications.
Thumbnails of many images types and now with icon support
Enhanced thumbnails

MysticThumbs has a fully configurable control panel where you can adjust thumbnail generation options and icon overlays, with options like transparency, thumbnail borders, scaling, embedded thumbnail selection and more.
Compound file support for files such as HTML, Maya and EML that use external files to make a complete image.
Options are controlled on a file type / extension level or if required on specific files through context menu control in Explorer.

File type or file-by-file transparency options and optional forced transparency on the desktop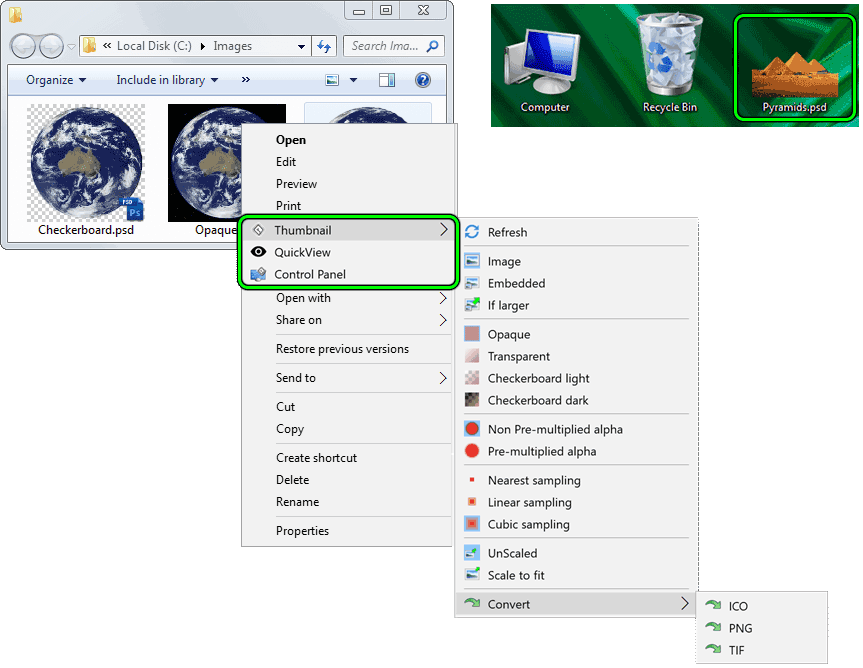 Icon customization and metadata support
Feature overview
- QuickView - if you miss your Apple Mac then press Ctrl+Space to QuickView files.
- Photoshop, RAW Photography images, DirectX, Targa & PowerVR game textures and all sorts of other images never looked so good in Explorer.
- All suported file types are all fully configurable.
- Transparency support - opaque, transparent, checkerboard.
- Image viewer to inspect all supported file types via context menu.
- Individual image customization via context menu.
- Embedded thumbnail or full image extraction.
- Enchanced support for native Windows supported images, PNG, TIFF, BMP etc.
- WAV sound files displayed as a waveform.
- Customizable file type icon overlays.
- Thumbnail adornment option, shadow or flat (no frame).
- Per image adjustments via context menu.
- Force transparent thumbnails on desktop option.
- Regular updates.
-
Plugin support
so you can add your own formats.
- Languages: English, Arabic, Chinese, Dutch, French, German, Greek, Hebrew, Italian, Japanese, Korean, Portuguese, Russian, Spanish, Swedish, Ukranian.
See a more complete feature list here
Download 30 day free trial and enjoy seeing your images in Explorer now
Unified Installer for 32 and 64 bit Windows
This is both the trial and full program.
Product keys supporting this version (purchased or renewed within the last year) unlock all features.


| | |
| --- | --- |
| v3.3.5 (Windows 8 / 7 / Vista) | |
| v3.0.8 (Windows XP) | |
Install Notes
Starting from version 2.6.6 MysticThumbs is signed using a Microsoft® Authenticode® Certificate. Do not install if you have received from a third party source and receive an unknown publisher warning.
Install and updates require Administrator privileges.
Purchase MysticThumbs
If you use this application and enjoy having all your image types displayed in Explorer please consider purchasing a full license.
Email and personal information are kept secure and free from marketing and spam in accordance with our privacy policy.
Please make sure your email client will allow emails from @swreg.org and @mysticcoder.net
Payments are made securely via SWREG e-commerce, a division of Digital River. All major credit cards and PayPal are supported.
Licenses
start at
US$29 per seat
discounted according to the amount of seats required. See
license terms
.
Each license
- Fully unlocks the trial version.
- Removes 30 day free trial limitation.
- Removes MysticThumbs watermark from generated thumbnails (use Refresh or Clear Cache).
- Removes licensing reminder notices.
-
Product Maintenance
- Entitles you to one year of program updates and feature enhancements.
- Entitles you to one year of product support.
-
Floating Licenses
- Multiple seat licenses receive one floating key covering all seats. This enables you to register/unregister machines accordingly.
Overview: Each license 'seat' can be active on a single machine at any one time. Licenses are 'floating' and are tracked by our internet license server and can be registered/unregistered via the control panel at any time for the purposes of moving between different machines.

You (individual or company) can use the program in a home, business, academic, or government environment. You may use the program on the allotted amount of seats assigned to the license. Each license seat is assigned to a machine hardware ID. The license key will be assigned to the business name provided at the time of purchase and will reflect the total number of license seats purchased.
All licenses are non-transferable. A person or a company registered as a license user is assumed to be the owner of the license. Once issued, the license may not be transferred to another user / business or re-registered to another username. Each seat may be assigned as required using the control panel registration box. Seats must be manually removed from the same place when no longer required on a machine so that the seat is returned to a free state.
Refunds: Due to the application having a 30 day free trial period to evaluate it's features and determine if you want to purchase, refunds are not generally given unless there are extenuating circumstances. We will not refund just because you changed your mind or are having difficulty with your system. If you are having difficulty for some reason there could be some other factor at work, such as another application interfering. Check the forums, FAQ and application help for assistance.
More Information: Can be found in the EULA accompanying the application / install.
Registering your license key
- Make sure you have SWREG.org allowed through your email server to receive your license key.
- Upon purchasing a license you will receive your key by email, usually almost immediately.
-
An internet connection is required
to register each key on each machine. Be sure to allow firewall access when asked when entering your key. You can block access again after successfully entering your key if you wish, however automatic updates may not work.
- Follow the steps on
this page
to enter your license key.
- New license keys can only be used in v2.4.0 onwards. You may have to update to the latest version.
Awards and media
Softoxi.com editor team:
"MysticThumbs - generate thumbnails for a large variety of image formats and view them in the Windows Explorer. This reliable and easy to use piece of software can prove to be an useful application for any user out there that owns a computer that runs on Windows XP, Vista or 7 operating system."