Thumbnails and QuickView for Windows Explorer - 32 and 64 bit
Significantly improve you and your team production performance with this versatile and powerful visualisation tool.

Control panel for total customisation
Dynamic thumbnails for many image formats natively in Windows Explorer
Recommended for Professional and Amateur photographers, Artists, Content Creators, Printers, Game Designers etc.

MysticThumbs generates thumbnails of many image formats not natively supported by Windows.
It plugs into Windows Explorer so you don't have to run a separate application to preview your images, see them all in the native shell and Open/Save dialog boxes in all 32 and 64 bit applications.
Thumbnail and icon generation
Enhanced thumbnails

The fully configurable control panel allows complete thumbnail and icon overlay customisation, with options like transparency, thumbnail borders, scaling, blending, embedded thumbnail selection and more.

Compound file support for files such as HTML, Maya and EML that use external files to make a complete image.

Options are controlled on a file type / extension level or if required on specific files through context menu control in Explorer.

File type or file-by-file transparency options and optional forced transparency on the desktop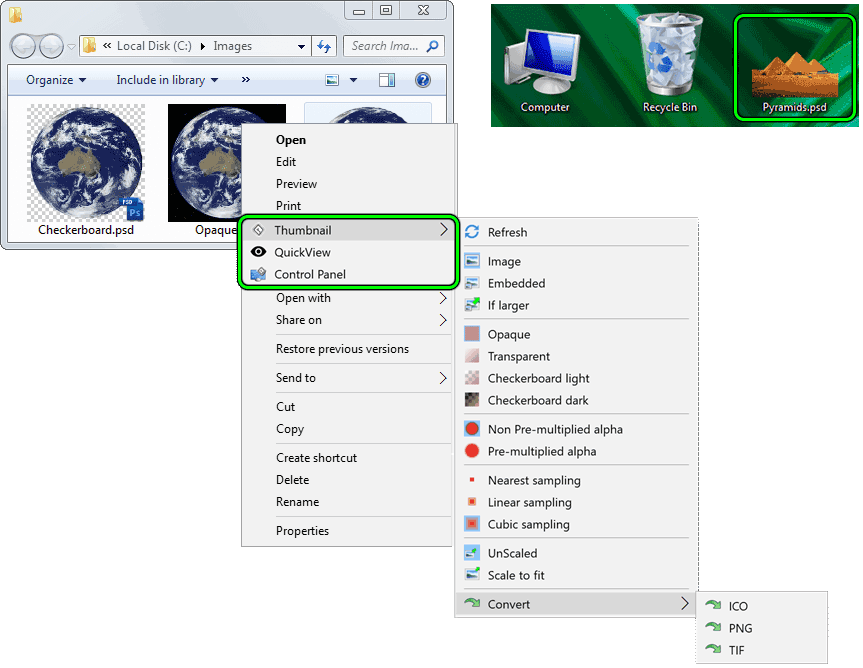 Icon customisation and metadata support
Feature highlight overview
QuickView - if you miss your Apple Mac then press Ctrl+Space to QuickView files.
High DPI support for the vision impaired and extra high resolution displays.

Photoshop, PaintShop Pro, SVG, RAW Photography images, DirectX, Targa, PowerVR game textures and all sorts of other file formats never looked so good in Explorer.

No need for any other application to see your thumbnails and quickly preview your images.

All suported file types are all fully configurable.

Transparency support - opaque, transparent, checkerboard options to help clarify transparent thumbnails against window backgrounds.

Very lean and fast, written 100% in optimised C/C++ using only Win32 system calls - no .NET, no MFC or other bloat to slow things down.

Individual image customisation via context menu.

Embedded thumbnail or full image extraction.

Enhanced support for Windows native supported images (JPEG, PNG, TIFF, BMP, GIF).

WAV sound files displayed as a waveform.

Customizable file type icon overlays.

Thumbnail adornment option, shadow or flat (no frame).

Per image adjustments via context menu.

Force transparent thumbnails on desktop option.

Regular updates.

Plugin support so you can add your own formats.

Languages: English, Arabic, Chinese, Dutch, French, German, Greek, Hebrew, Hindi, Italian, Japanese, Korean, Portuguese, Russian, Spanish, Swedish, Ukranian.

See a more complete feature list here.
Download 30 day FREE trial and enjoy seeing your images in Explorer now
Unified Installer for 32 and 64 bit Windows
This is the Trial and Full version. Purchase a license key to unlock all advanced features and remove Trial limitations.


Download v4.1.0 (Windows 10 / 8 / 7 / Vista)
Download v3.0.8 (Windows XP SP2)

Download an older version
Install Notes
Install and updates require Administrator privileges.
MysticThumbs is signed using a
Microsoft® Authenticode® Certificate
.
This ensures the software is legitimate and has not been tampered with. Download only from MysticCoder.net and be sure you receive the blue User Account Control security prompt when installing.
Do not install if you have received from a third party source and receive an orange unknown publisher warning.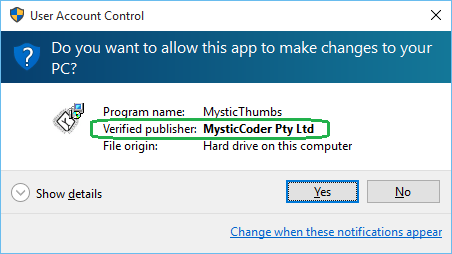 Purchase MysticThumbs
Go to the order page now to purchase your full copy of MysticThumbs.
Awards and Media