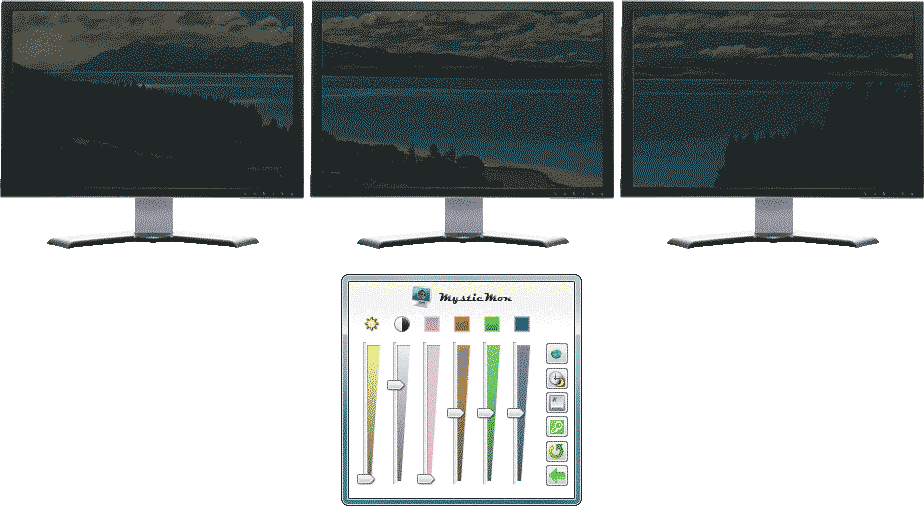 MysticMon allows you to control your monitor brightness, contrast and other settings directly from software without having to reach for the physical monitor controls. Very useful for adjusting settings on the fly in different light conditions.
Multiple monitor support
Multiple montors are supported so all settings are adjusted for each monitor. This can be extremely useful for gamers and video professionals that use two or more monitors and require the settings to be identical on each monitor without having to manually set each one with annoying digital controls!
Features
Brightness, Contrast, Color temperature, RGB gain controls.
Brightness, Contrast hotkey options.
Turn monitors off via double click on tray icon or by settable hotkey.
Restores monitors to last settings when waking from sleep, hibernate, monitor blank, screensaver.
Languages: English, Arabic, Chinese, Chinese, Dutch, French, German, Greek, Hebrew, Italian, Japanese, Korean, Portuguese, Russian, Spanish, Swedish.
Download v1.0.7 (Windows 10, 8, 7 / Vista) 30 day free trial
Purchase
Single Licenses
only
$9
are for individual, non commercial or profit use. See
license terms
.
Business Licenses
start at
$13 per seat
discounted according to the amount of seats required. See
license terms
.
If you use this tool and enjoy being able to control your monitors without touching them, please consider purchasing a full license.
Your email and information are kept secure and free from marketing and spam.
Payments are made securely via SWREG. All major credit cards and PayPal are supported.
Purchasing a license
Removes 30 day free trial limitation.
Removes licensing reminder notices.
Entitles you to future updates and feature enhancements.
Entitles you to email product support.
Single User (Home) License: you can use the program for non-commercial purposes in non-business, non commercial environment. That is, you only intend to use it at home for private use. You may use the program on one computer at the same time. Your license key and license will be assigned to a private person.
Limitations: Each single user license can only be used by one machine/user at any one time.
Site (Business) Licenses: you (individual or company) can use the program in a business, academic, or government environment. You may use the program on the allotted amount of seats assigned to the license. There are no floating (concurrent) licenses. If more than one person works with the program, you need to purchase additional licenses for each party. The license key will be assigned to the name provided at the time of purchase and will reflect the total number of license seats purchased.
Limitations: For each license key, only the subscribed amount of seats may be used by any machine/user at any one time.
All licenses are non-transferable. A person or a company registered as a license user is assumed to be the owner of the license. Once issued, the license may not be transferred to another user or re-registered to another username. A company can allocate and deallocate company licenses to employees as needed.
Make sure you have SWREG.org allowed through your email server to receive your license key.
Upon purchasing a license you will receive your key by email, usually almost immediately.
Enter your license into the registration box from the main window.
FAQ
Doesn't run on your machine? MysticMon requires Windows Vista or later operating system.
If some controls don't work they may not be supported by your monitors.
For monitors that don't support full monitor control (such as LCD monitors) only brightness may work correctly.
Awards